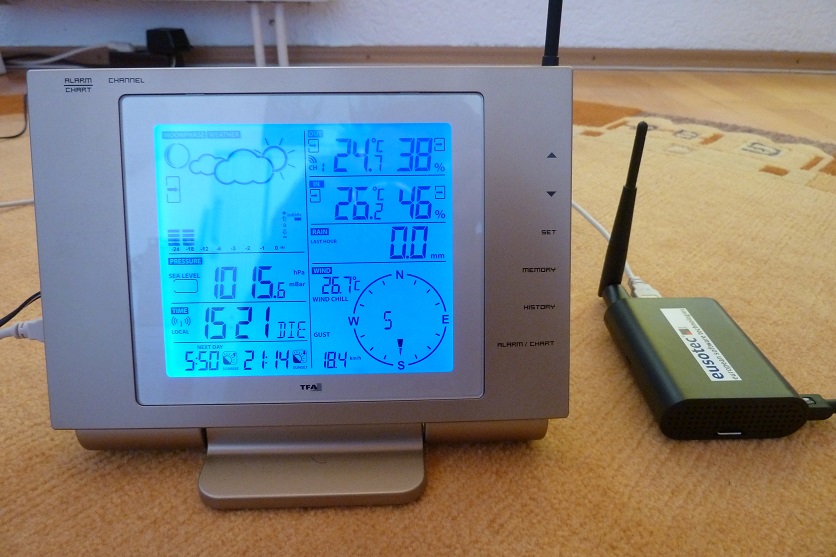 The Eusoport will be connected via the "Davis® WeatherLink USB or IP" with the Davis® weather station.

Eusoport for professionel Davis®, Nexus and Sinus Weather Stations

Online monitoring of all weather data without any PC. Could be displayed with all kinds of standard browsers (including smart phones). Needs only about 1.5 Watt.

Enjoy your holidays under the sun and call your home weather data worldwide. Or receive an alarm email, when your given boundaries are exceeded. That all is possible with our Eusoport.

Simplest Installation

With the optional usage of the very powerful Eusotec Cloud you will have direct worldwide internet access WITHOUT any configuration in your router or in your Eusoport.
Automatically synchronization of Cloud configurations (e.g. Email Alarms) and Eusoport. The usage of the Eusotec Cloud is free for the first 2-3 month. For an extension please visit our online shop.
For a demonstration with actual data click here http://en.eusoport.de
But also without the usage of the Eusotec Cloud of course you can call worldwide your data after you configured your router with the needed settings.

Also if no configuration is needed, it does not mean that own wishes could not be realized. So it is possible to set sensor names, your own background image, alarm boundaries and receiver email address, units, more external weather networks and servers, your own webcam, common look and feel, etc.
Everything could be done with an easy web interface inside your browser. It is not possible to realize it more simple and comfortable like we do !

Features:

Built in PHP Web Server, alarms via email (e.g. wind speed > 30 mph), configurable cyclic transfer (30 sec, every minute or all 5 minutes) of all measurement data in a .csv format to any FTP server. Could be imported to WsWin32.
Simplest configuration with web interface, data storage on SD card, SSH, FTP server, Direct Link (e.g. AWEKAS) and XML interface.
Sensor- and time driven home automation for AVM (Fritzbox®) smart home products via user defined PHP script trigger.